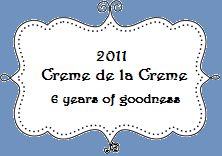 I haven't heard of this before but another blogger posted that she entered and after checking it out I sent in my entry as well. Looking forward to having some great blogs to read.
I encourage you to submit one of your favorite blog posts from last year too. The entry form closes tonight so hurry quick and get your entry in.
This is the post I submitted.
http://brinleylove.blogspot.com/2011/08/brinleys-month.html