Day 5: Do you ever get subtle reminds of your angel(s)? If so what what are they? *Winks*
Yes, every time I see a dragonfly I'm reminded of her. Every time I find a dime I know she is thinking of me. And every time I see a bumble bee I feel her love. I have a few winks for my little girl. They usually come when I need them most.
Yesterday was the Walk to Remember at the Conway Medical Center and while we were outside listening to the music I saw two dragonflies flying around and knew that she was with me. It brought a smile out of my tears for her loss.
The theme for the walk was butterflies. Some of the meaning behind a butterfly is that it represents change and hope for the future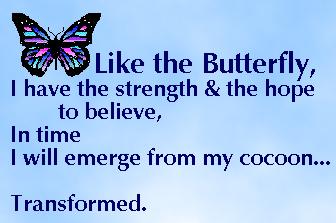 In the grief process, the bereaved person must learn how to deal with the loss, or significant change. Many people may hide away from the rest of the world much like being in a cocoon while trying to heal. This cocoon phase is one of transformation and often introspection and reflection. The process ends as the person emerges from their cocoon, metamorphosed into a different person. Thus the transformation of the grieving process is much like the story of the butterfly.
A Symbol of Hope
A butterfly lights beside us like a sunbeam
And for a brief moment its glory
and beauty belong to our world
But then it flies again
And though we wish it could have stayed...
We feel lucky to have seen it.
~Unknown~